A Guide to Understanding UK Traffic Lights
A Guide to Understanding UK Traffic Lights
Traffic lights are an integral part of road management, ensuring safe and efficient traffic flow. In the United Kingdom, these lights follow a specific sequence and set of rules that all drivers must adhere to. Understanding UK traffic lights is crucial for both new and experienced drivers. In this guide, we will break down the sequence of traffic lights, the significance of flashing amber lights, where to stop, filter lights, advanced cycle boxes, and what to do when traffic lights are not working.

Sequence of Traffic Lights
Traffic lights in the UK follow a standardized sequence of three primary colors:
Red: When the red light is displayed, it means stop. All vehicles must come to a complete halt, and you should remain stationary until the light changes to green.
Red and Amber Together: This means that the traffic light is about to turn green, this step allows you to prepare your vehicle to go, however you still need to wait for the green light before moving off.
Amber (Yellow): The amber light indicates that the light is about to turn red. When you see the amber light, you should prepare to stop unless it's unsafe to do so. If you have already passed the stop line or are too close to stop safely, you may proceed.
Green: A green light signals that you can proceed if the way is clear. It means you have the right of way, but you must still yield to pedestrians and other road users who may have the right of way.
Flashing Amber Traffic Light
Flashing Amber
A flashing amber light is not a common sight, but when you encounter one, it has specific meanings:
Flashing Amber: Proceed with Caution: A flashing amber light is a caution signal. It's typically found at pedestrian crossings and some level crossings. At traffic lights Drivers should proceed if it is clear and safe to do so, not going when safe, would be classed as a fail on your driving test.
Where to Stop
To ensure a smooth and safe traffic flow, traffic lights are equipped with stop lines or advanced stop lines. Here's where you should stop:
Stop Line: The stop line is a white line painted on the road. When the light is red, all vehicles must come to a halt just before this line. You should not block pedestrian crossings or encroach into junctions when waiting at a red light
Advanced Stop Line: Some traffic lights have an advanced stop line specifically for cyclists. This area, marked with a bicycle symbol, allows cyclists to position themselves ahead of motor vehicles at the red light. Motor vehicles are not permitted to enter this area when the light is red.
Filter Lights
Filter lights are used at some junctions to allow specific vehicles to proceed before others. They come in two variations:
Traffic light stays on red but a green arrow comes on - When you encounter a filter light, it means that you should only proceed if it's safe and the way is clear. These lights are often used at T-junctions to allow vehicles to filter into the main road one at a time.
From red to Green Arrow Filter Light: This filter light, shaped like a green arrow, indicates that you have the right of way to proceed in the direction of the arrow. You can move freely in the direction the arrow points, but you still need to give way if pedestrians are in your lane.
Advance Cycle Box Stop Line
Advanced Cycle Box
Advanced cycle boxes, as mentioned earlier, are designated areas for cyclists to position themselves ahead of other vehicles at a red light. Here's how they work:
Cyclists: When the light turns red, cyclists should move into the advanced cycle box if they can do so safely. This helps improve visibility and safety at traffic lights and roundabouts.
Motor Vehicles: Motor vehicles are not allowed to enter the advanced cycle box area when the light is red. They should stay behind the white line until the light turns green.
When Traffic Lights are Not Working
What to Do If Traffic Lights Are Not Working
In the rare event that traffic lights are not working, drivers should treat the junction or roundabout as an uncontrolled junction and follow these rules:
Give Way to the Right: If you arrive at the intersection simultaneously with another vehicle, you should give way to the vehicle on your right.
Use Extra Caution: Approach the junction or roundabout at a reduced speed and with extra caution. Check for other road users, including pedestrians and cyclists.
Temporary Traffic Lights
Often used for roadworks these lights will not have a stop line before you get to them, however, you will see a sign saying "Wait Here" You need to stop just before that sign, as that is acting as the stop line.
It is also placed at the best distance from the traffic sensor on top of the traffic light, to detect when there is traffic waiting.
Sometimes this sign may have another sign on top saying "3 way traffic" or "4 way traffic" meaning not only are there lights for the main road, but there may be lights on a side road or crossroad. So even if the light is on red, but the car opposite is still waiting, don't conclude that the lights are stuck. Most times its just letting vehicles from these other roads go.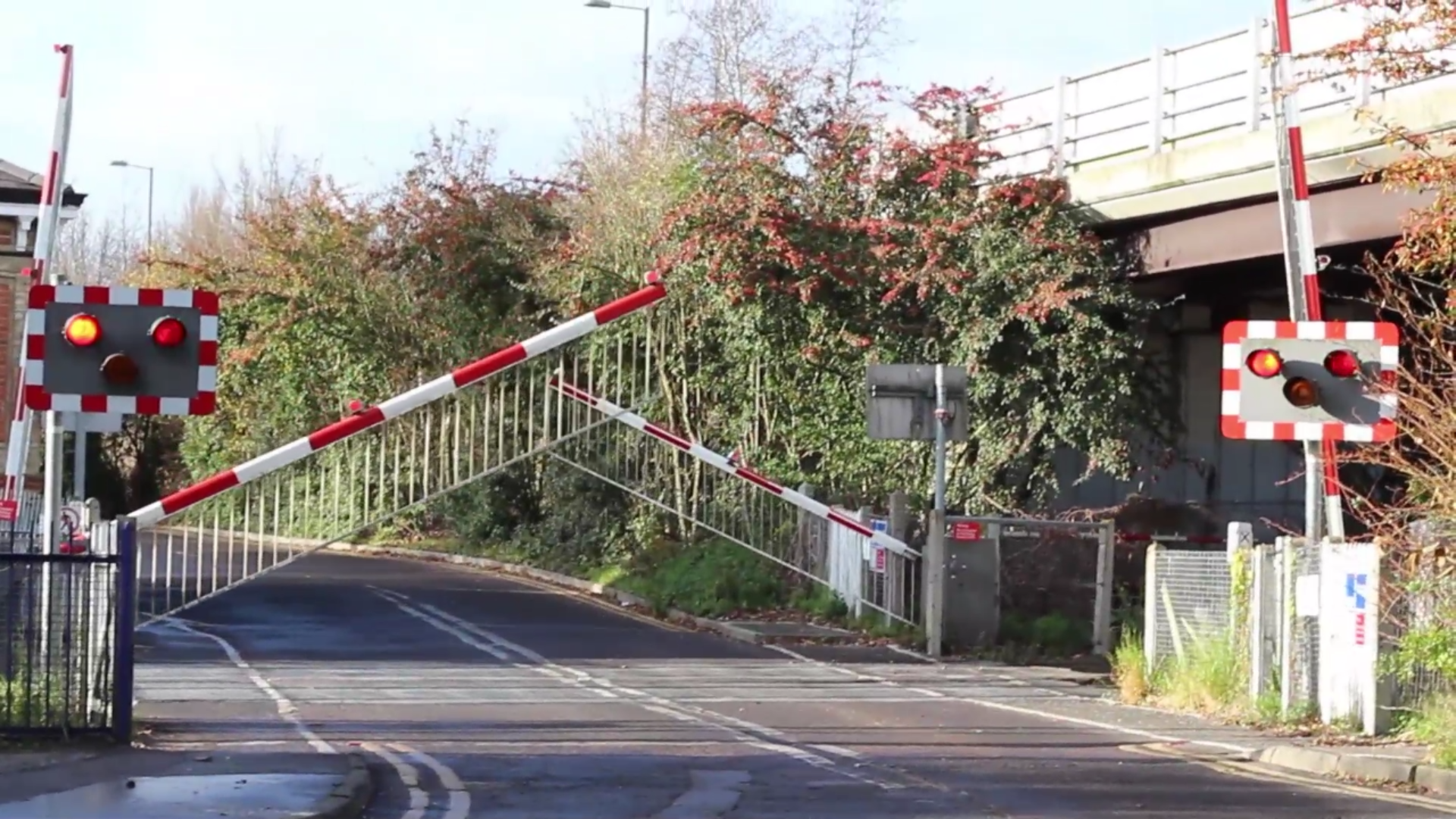 Red Lights at Level Crossings
Flashing lights at level crossings are a crucial safety feature designed to alert drivers and pedestrians to the presence of an approaching train.
These flashing lights are typically installed on either side of the level crossing, near the road, and sometimes on additional posts or overhead structures.
They are activated automatically when a train is approaching the crossing. The sequence of flashing lights serves as a visual warning, In general, the lights flash alternately, typically in a red, and they continue to flash until the train has passed and the crossing is safe to use. These lights, along with other warning signals like barriers, bells, and warning signs, are essential in preventing accidents at level crossings by providing clear and unmistakable visual cues to all road users that a train is in the vicinity.
Green Light Still Check for other vehicles
Its important to remember that even though your traffic light may be on green, it is always a good idea to check, that as you drive on, that there isn't anything coming through the red lights.
This could be an emergency vehicle that is responding to an emergency call, in almost every case they would have the blue lights flashing and the sirens going, but you still need to be aware of the direction that they are coming from.
See our article of HOW TO DEAL WITH EMERGENCY VEHICLES
As well as this, you may have to contend with people, who are not paying attention on approach to the traffic lights and who don't realise the lights have changed. (Most learners may have tales of how there driving instructor had to hit the brakes, because the learner had not noticed the red light)
Added to this the rise in Ebikes and Escooters means that sometimes they may do silly things and you need to be the one to keep them safe.
Please complete the form below and click the Send button to get in touch with us.
Thank you for submitting the contact form.