What is The ADI Standards Check?
ADI Standards Check Tests regularly cause a feeling of doom and dread among instructors. The simple truth is that a check test is just a driving lesson.
However it is nothing to be concerned about - The DVSA are simply checking that you are upholding the standards expected for driving instructors rather than just sit there, take the students money and then pay no attention to what they're doing.
To Be More Confident in taking the ADI Standards Check you need to be confident in
Understanding the adi check test marking sheet
Top 5 reasons ADI's FAIL THE CHECK TEST
ADI Standards Check Test Guide
Complete Guide for UK Driving Instructors - ADI Part 3 and ADI Standards Check Test Guide is professionally designed to help trainees and qualified driving instructors pass their ADI Part 3 and ADI Standards Check Test
Including ✓ Fault Identification and Analysis ✓ Fault Correction ✓ Learning and Teaching Styles ✓ Understanding the ADI Part 3 Marking Sheet ✓ Focal and Reference Points ✓ Commentary driving ✓ ADI Part 3 Lesson Plan Outlines ✓ Teaching and Learning Styles ✓ ADI Part 3 Phrases
What is the ADI Standards Check
In a very simple way, the ADI Standards Check Test is the same layout and marking criteria as the ADI Part 3 test.
The ADI Standards Check Test is, as the name suggests a check that you are continuing to uphold the standards in teaching that are expected from Driving instructors.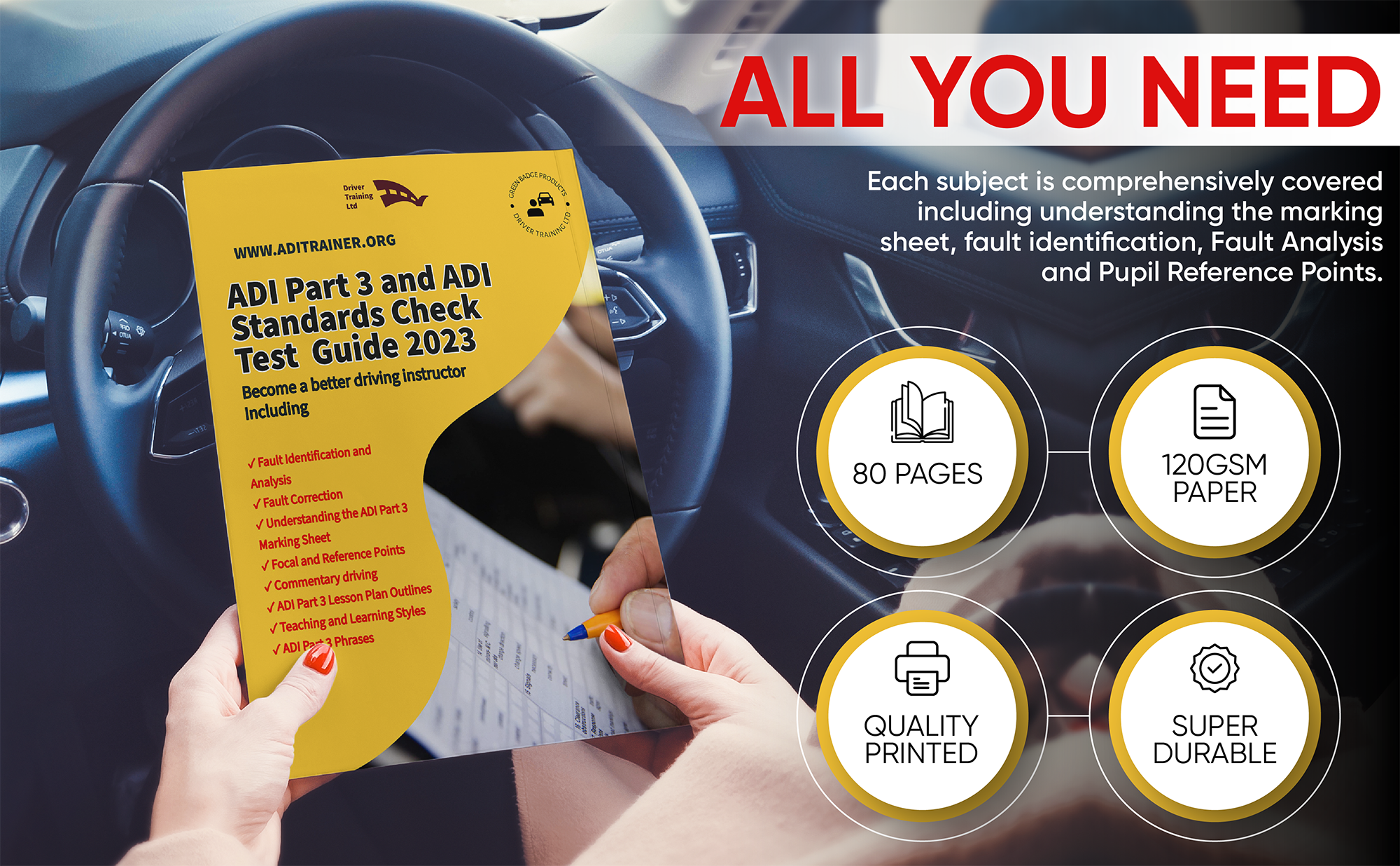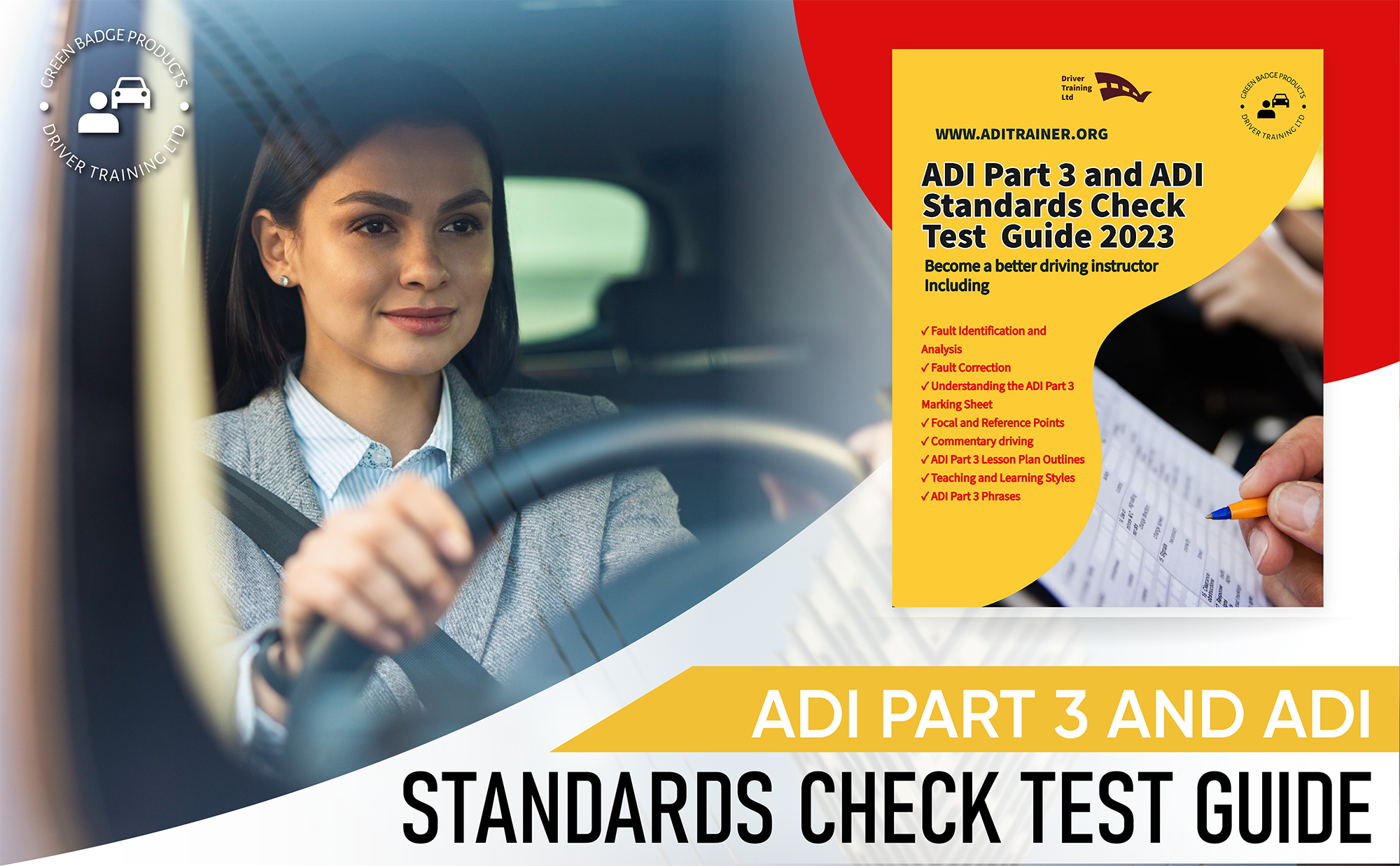 What happens at the ADI CHECK TEST?
What happens at the ADI CHECK TEST

A Driver and Vehicle Standards Agency examiner will watch you give a normal driving lesson to your pupil.
The examiner will look for evidence that you meet the national standards for driver and rider training.
So What will you be marked on?
ADI Standards Check Test Marking
You'll be marked on 17 areas of competence that are grouped into 3 categories:
lesson planning
risk management
teaching and learning skills
The 17 areas of competence are listed in the ADI standards check report form, which the examiner will fill in during your check.
You'll get a score from 0 to 3 for each of the 17 competencies, which are added up to work out your grade.
After you give the lesson, the examiner will discuss your performance and give you your grade. This will take about 15 minutes.
You can take your trainer or mentor with you, but they can't take part in the lesson.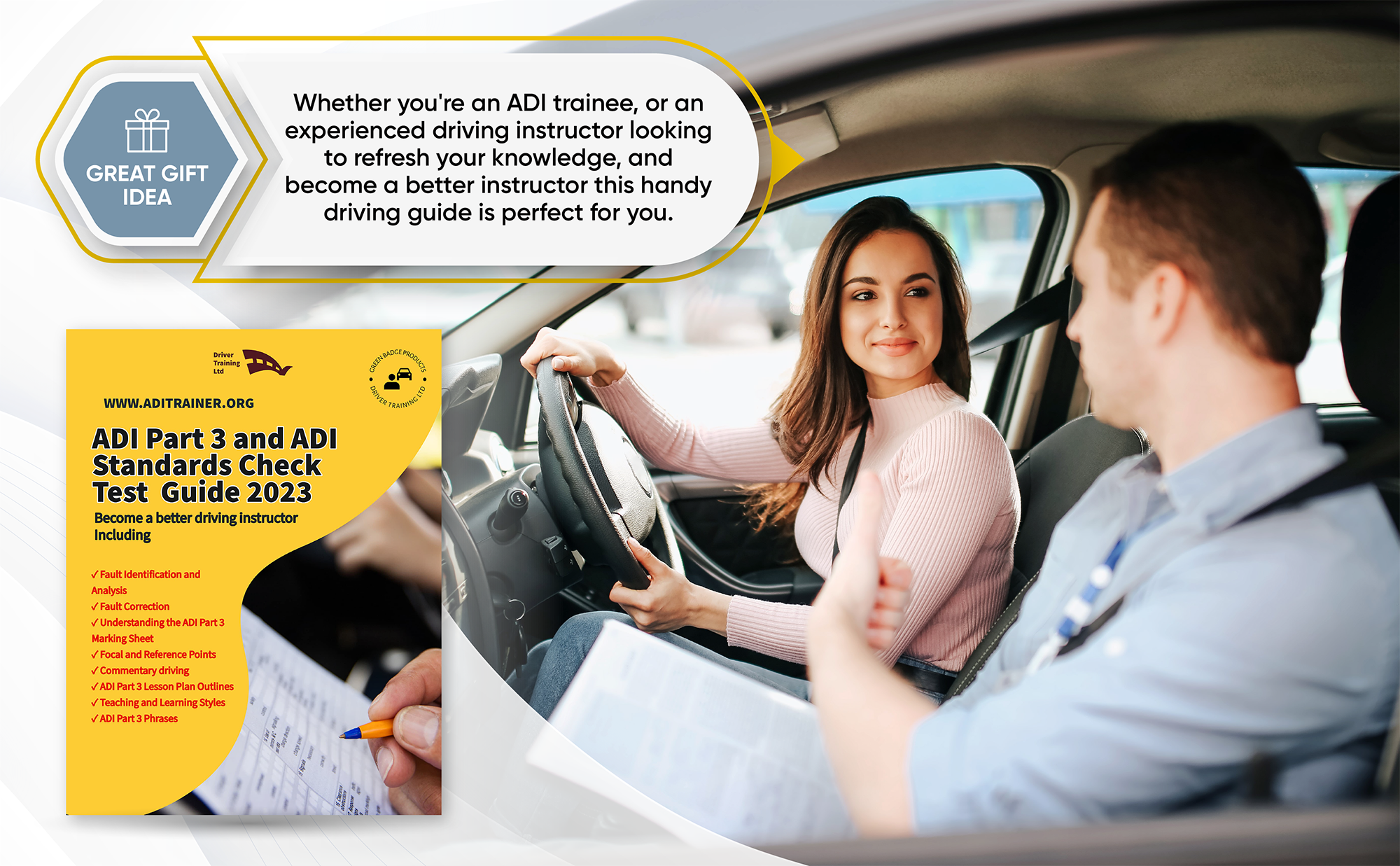 Please complete the form below and click the Send button to get in touch with us.
Thank you for submitting the contact form.

Monday - Friday:
09:00 am - 6:00 pm
Saturday - Sunday:
10:00 am - 3:00 pm