Trainee Licence?
At the end of the test of the Adi Part 2 practical driving test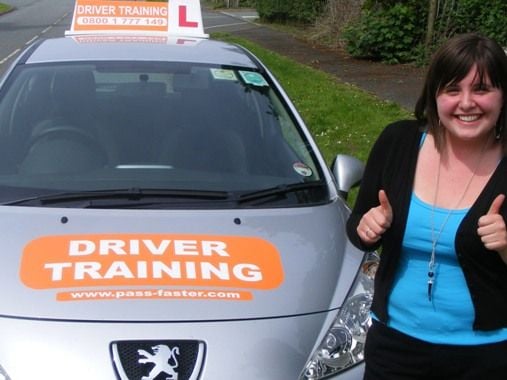 When you have finished the practical driving test you will be given your result by the examiner.
If you pass, on the back of the result letter there is an application form for the part three test. When you are fully prepared for the next stage (the test of ability to instruct) you should apply for the test in one of the ways described in that letter.
You will also be offered a trainee licence application form on which you can apply for a trainee licence to help you gain experience in instructing pupils to drive. For more information about the trainee licence, read the section below called 'ADI trainee licences'.
If you fail, the result letter contains an application form. This can be used to apply to re-sit the part two test - provided you have not used up your three attempts.
Appeals
You may appeal to a Magistrate's Court or, in Scotland, the Sheriff's office, if you consider your test was not conducted properly in accordance with the regulations. However you cannot appeal against the examiner's decision.
ADI trainee licences
Once you have passed the first two parts of the Approved Driving Instructors (ADI) qualification process, you can apply for a trainee licence to help you gain experience instructing pupils to drive.
A trainee licence allows you to be legally paid for giving driving instruction, but should not be regarded as a sole means of making a living or as an alternative to registration as an ADI. The trainee licence lasts six months and normally only one is granted in the two year qualifying period.
It is not essential to have a licence in order to prepare for the part three examination, but it is an option that is available to assist in preparing for the examination. Holders of a trainee licence should be aware that the licence is deemed to have lapsed on the day following a third unsuccessful attempt at the part three examination.
Applying for a trainee licence
If you apply for a trainee licence you must:
hold and have held a full UK or European (EU or EEA) car driving licence for at least three years, up to the date of application.

not have been disqualified from driving at any time in the four years up to the date of application

be a fit and proper person

have passed the theory part (Part 1) and the practical test of driving ability (Part 2)

be eligible to take the test of ability to instruct

not have passed the theory test more than two years before the date of your application
Conditions of a trainee licence
The conditions under which a licence is granted are:
you are only authorised to give instruction for the school whose address is shown on the licence

you must not advertise yourself as a fully qualified instructor

you must receive 40 hours practical training from a qualified ADI before your apply for your licence. It is your responsibility to make sure that you receive training in each of the specified subjects. You must submit a completed Instructor Training Declaration (ADI 21T) with your application
You must also abide by one of the following conditions:
Condition 1
you must receive supervision for 20 per cent of all lessons you give from your sponsoring ADI

a record of all lessons given, along with the supervision received must be kept on the form ADI 21S which will be issued with the licence, this must be signed by you and your ADI and must be returned to the Driving Standards Agency (DSA) as soon as the licence expires
Condition 2
you must receive a minimum additional 20 hours training covering all the specified topics

this extra training must take place within the first three months of the licence or before you take your first attempt at part three, whichever is the soonest

a record of this training must be kept on the form ADI 21AT, and must be sent to DSA before the end of the three month period, or presented to the examiner conducting the part three test, whichever is the earliest

at least 25 per cent of the training will have to be practical training
Displaying the trainee licence
When instruction is being given the licence must be displayed in the bottom left hand corner of the front windscreen. The use of the licence is your own responsibility. No refunds will be given for any period when the licence is not used.
If you cannot make full use of your licence and you have to stop giving tuition, return it to the issuing office immediately. If your trainee licence is lost or stolen you should report it to the police and to DSA straight away.
It is totally upto you to decide whether you want to go onto a trainee licence or not, we do feel that if you use it to LEARN and not to EARN then you will find it very useful if sharpening your skills with pupils.
If however you use it to work 40 hours a week, you won't have anytime to practice your skills and it will have been a pointless exercise.