Mock Driving Test Sheets: The Ultimate Tool for Driving Instructors and Driving Schools! Are you a driving instructor or own a driving school?
Are you looking for a comprehensive and efficient way to prepare your students for their upcoming driving tests?
Look no further! Our Mock Driving Test Sheets are specifically designed to assist driving instructors and driving schools in delivering exceptional training and ensuring their students' success
They come in a spiral bound book of 25
After the test you can give the sheet to the pupil or keep it in the book as a reference for there next driving lesson
Why use Mock Driving Test Sheets?
With the wait for driving tests becoming ever longer and the DVSA asking driving instructors to make sure that there pupil is test ready, by taking mock driving tests, these mock test sheets provide the practice needed
Here's why our Mock Driving Test Sheets are a must-have for driving professionals:
GET YOUR BOOK OF 25 FOR JUST £12.95
The DVSA now recommends using Mock Test Sheets with your pupils
Mock driving tests are conducted to give the learner driver an opportunity to practice their driving skills and familiarize themselves with the driving test format.
These tests simulate the actual driving test and allow the learner driver to identify areas where they need to improve.
Mock driving tests also help to build confidence and reduce anxiety, which can be helpful in ensuring that the driver is fully prepared for the actual driving test.
Additionally, mock driving tests can be used to highlight any bad driving habits that need to be corrected before the actual test.
Why Do Mock Driving Tests Help?
Comprehensive Preparation:
Our sheets cover all essential aspects of a driving test, including vehicle controls, traffic signs, road rules, parking manoeuvres, and more.
Each sheet simulates a realistic driving test scenario, allowing your students to familiarize themselves with the exam format and gain confidence.
Then on their next driving lesson, you can work on the areas they struggled with.
Mock Tests Help Learner Drivers
Structured Learning: Our sheets follow a systematic and organized approach, providing a step-by-step breakdown of each test component.
This structure ensures that your students gain all the necessary skills and knowledge required to pass their driving tests with flying colours.
Provides a Realistic Experience of How To Deal with The Driving Test
Realistic Scenario: We understand the importance of replicating real-life driving situations.
Our Mock Driving Test Sheets provide the scenario that students are likely to encounter during their actual driving test.
This helps them develop the ability to make quick and informed decisions on the road, enhancing their overall driving competence.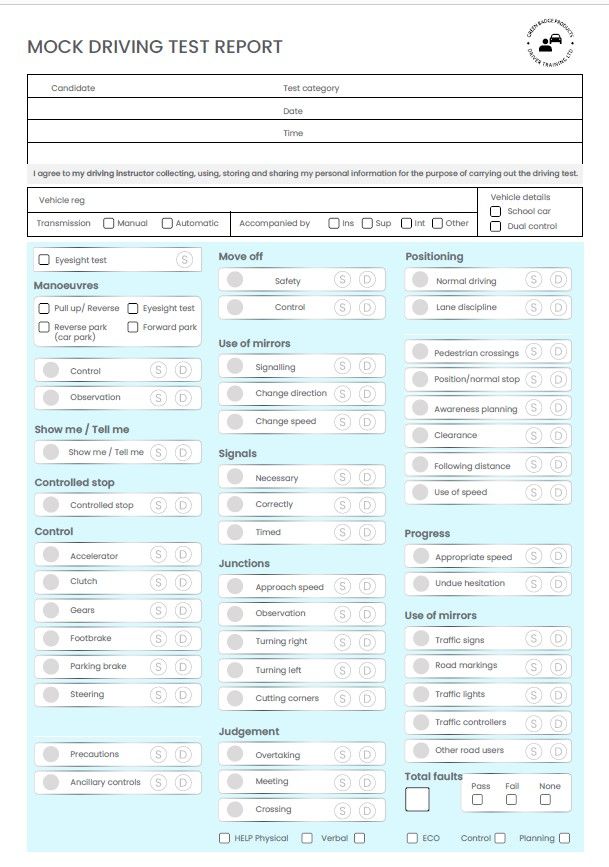 Mock Driving Test Sheets helps with test preparation
Performance Tracking: With our sheets, you can easily track your students' progress and identify areas that require further attention.
Detailed feedback sections allow you to provide constructive criticism and guidance, enabling your students to continually improve their driving skills.
You can write any faults that were made on the back, which then helps both the student and the driving instructor to reflect and recap what could have been done and how to resolve the issue if it happens again
Please complete the form below and click the Send button to get in touch with us.
Thank you for submitting the contact form.

Monday - Friday:
09:00 am - 6:00 pm
Saturday - Sunday:
10:00 am - 3:00 pm