Training Sheet 4
Reversing to the left or right

BUY OUR COMPREHENSIVE ADI PART 3 BRIEFINGS FOLDER - CLICK HERE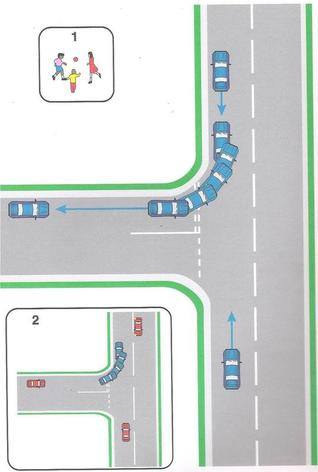 *
WHAT'S IT ABOUT
Being able to reverse the vehicle into a limited opening on the left or the right
under control, with due regard for the safety of other drivers.
*
DO I HAVE TO DRIVE FROM THE TEST CENTRE
No the pupil will drive to the required site but will relay directions for you to pass back to him
*
WHERE DO I DO THE BRIEFING?
At the site

*
WHAT ARE SOME FAULTS?
Observations - Not checking blindspots or looking for other road users
Control - Not knowing when to turn or how much, co-ordination of pedals and/or handbrake, clutch too high.



**DO NOT UNDER ANY CIRCUMSTANCES SAY TO THE PUPIL ..."JUST FOLLOW THE KERB AROUND"
THIS IS NOT TEACHING!!!! THIS IS HOPING THE PUPIL CAN DO IT**
* You need to be able to bring them back to a specific point (point of turn)
* You need to tell them how much they need to turn and in which direction
* You have to control there speed and observations
* You have to give them a specific point to turn the wheel back to straighten the vehicle
* You have to be accurate so that without mirrors they can follow your instructions and reverse
back without touching the kerb
SUBJECTS COVERED
The ADI part 3 marking form
• Coaching skills
• Client-centred learning
• Dealing with errors quickly and effectively
• Lesson records and reflective logs
• Choosing a pupil
• How to help the pupil adapt to (and include) the examiner on the ADI part 3
• Choosing and adapting the lesson goals
• Risk management
LEFT AND RIGHT REVERSE
This exercise will be introduced to the PDI by the examiner saying: "I would like you to
instruct me in reversing assuming that I am partly trained……"

Reversing: The PDI should deal with this exercise from the aspects of technique (coordination
of controls, including steering with reasonable accuracy) and safety (proper observation).

This exercise may be applied as a test of instruction on reversing to the left or to the right.

Left and right reverses should be tested evenly. (The examiner should record whichever is
selected by recording a '/' in the appropriate box).
Should the PDI remove their seat belt during the exercise the examiner will need to tactfully remind them that they are a full licence holder therefore the belt needs to be on.

NB: For all manoeuvres.
Examiners should select a road that is safe, convenient and legal (the use of crossroads is
unacceptable). They should also have an alternative in mind should the one chosen
become unsuitable whilst the briefing is being given.