Adi part 3 briefings
Adi Part 3 briefing
When it comes to your pupil, one of your training strategies could involve a turn in the road. The pupil will expect you to give them a briefing on what you expect them to do, this as the title suggests just needs to be a brief overview of what is expected. You do not need to spend any more than between 3 and 5 mins on this. If you do it's pointless as you are wasting your own time and the examiners. The structure just needs to follow this routine.
What the Object of this lesson is
So for instance it may be a turn in the road. So the object of the lesson is to get the vehicle using forward and reverse gears to turn around in as few turns as possible so it is facing the opposite direction
Why you need to do this
If there is a dead-end to your road, If there has been an accident and the police are turning everyone around.
How you are going to do this
This is where the importance of a great teaching aid comes in, we heartily suggest you invest in a colourfile professional book. They are available from us for £45 or from most good stockists. You will use this book for the rest of your career so it will pay for itself a thousand times it is really a MUST HAVE item.

Let's now swop to the Controlled stop exercise.

For example look at the diagram below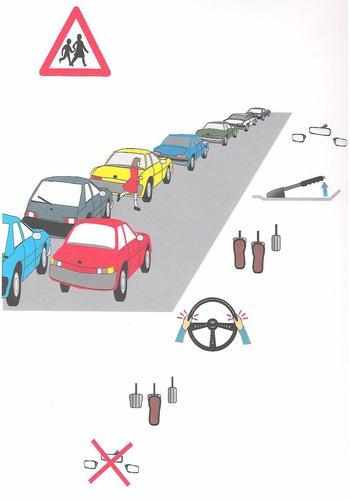 Just by following the diagrams from bottom to top on the right hand side you have the outline of the main points on your briefing.
1. No mirrors
2.Quickly on the brakes
3.Both hands on the wheel
4.BBC = Brake before clutch
5.Handbrake on
6.Full 360 degree observations before moving away
And there in one fell swoop you have a brief and concise overview of what needs to be done and why (obviously with some padding and good q+a)