Training Sheet 2
Moving Off, Making Normal Stops and Use of the Mirrors
BUY OUR COMPREHENSIVE ADI PART 3 BRIEFINGS FOLDER - Click Here

MOVING OFF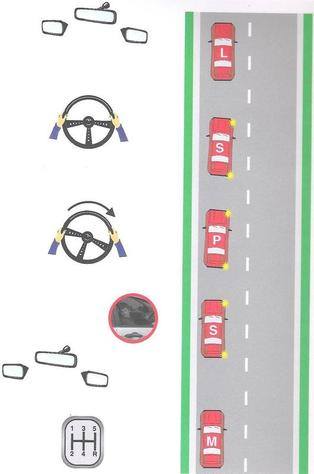 *
WHAT'S IT ABOUT
The first part is getting the learner to use the P-O-M Routine
Checking the mirrors and the blindspot
And moving out into the normal driving position
*
DO I HAVE TO DRIVE FROM THE TEST CENTRE
Yes you drive to the site
*
WHERE DO I DO THE BRIEFING?
This is done at the site - but remember the commentary only needs to be brief becuase this is going to all be full commentary - Also remember to do the briefing on pulling up as well
*
WHAT ARE SOME FAULTS?
Steering - If you just say steer left, he will do full lock
Clutch - He will stall
Pulling up at the side of the road

*
WHAT'S IT ABOUT
Getting the pupil to identify a safe and legal place on the left to pull up
Using the MSPSL routine before each stage
Making sure the learner parks safely at the side of the road in the correct position and with the due regard for the safety of himself and other road users
*
WHAT ARE SOME FAULTS?
Steering too much or too little
Not checking mirrors
Signalling the wrong way
Braking as if it were an emergency stop


SUBJECTS COVERED
The ADI part 3 marking form
• Coaching skills
• Client-centred learning
• Dealing with errors quickly and effectively
• Lesson records and reflective logs
• Choosing a pupil
• How to help the pupil adapt to (and include) the examiner on the ADI part 3
• Choosing and adapting the lesson goals
• Risk management

Moving off: The PDI should deal with the preparation observation and manoeuvre routine
(POM). The PDI should test the pupil's ability to identify whether the correct move off
procedure has been executed from both the control and observation aspects, to include
the all important timing of the blind spot check.

Normal stops: The PDI should deal with the selection of a safe, convenient and legal
place for stopping the MSM routine and the appropriate use of controls.

Use of the mirrors: The PDI should deal with the mirrors from a general aspect of the
driver's seating position and adjustment of the mirrors; also the importance of rear vision at
all times.
The PDI should refer to the 'blind spots' and to take account of what is seen in
both the interior and exterior mirrors.
They should emphasise that mirrors should be used in pairs and especially before signalling, changing direction, overtaking or stopping, and should explain the use of the mirrors - signal - manoeuvre sequence.
Need Advice? Call 0800 1 777 149